Chetna is a gesture enabled interactive information system (presented through TV interface) aimed at educating and creating awareness about maternal healthcare in rural Assam, India. Healthcare information is provided through an interactive animations (operated through human body gestures) in local Assamese language for easy understanding and adaptability. It is targeted to low socio-economic and low-literate pregnant women from rural areas of Assam. With detailed information modules on frequently observed symptoms & relevant recommendations, important tests & checkups and food habits, it also educates them with appropriate reasoning of presented information. The information provided is in-line with National Rural Health Mission (NRHM) national and state schemes. Users can also ask pregnancy related questions to system, which are answered by health specialists during their next visit.
Contents:


Healthcare contents are mainly divided into 3 sections – Symptoms and Recommendations, Tests & Checkups and Food habits. Each information is specific to trimester, making is customized based on trimester of pregnant women.
Symptoms and recommendations provide in-depth information about possible symptoms during 3 trimesters of pregnancy period. Recommendations are provided to overcome/reduce the effect of each symptom explained. Each symptom & recommendation is followed by a quick question to verify the information understanding.
Tests & Checkups provide in-depth relevant information regarding mandatory participation of each test & checkup. These tests are in-line with ongoing healthcare scheme of National Rural Health Mission (NRHM) and are easily available in remote corners in Assam.
Food habits provide in-depth information about appropriate food habits, food to/not to consume and impact of health diet. The information is provided considering the available local food.
Interactions:


Gestures being one of the most natural medium of human-to-human interactions, Chetna uses mainly human body gestures to interaction with information. Easy and intuitive gestures allow users to adapt and remember all gestures for smooth and engaging interactions with Chetna. Users can also use body-centric-gestures to directly learn about specific symptom. (e.g. touch your stomach to know about stomach related symptoms & recommendations)
Chetna allows users to directly ask questions to Chetna through IBM's spoken web technology. These questions are answered by health specialists/doctors and delivered to users during their next visit.
User group:


Chetna is mainly targeted low socio-economy and low literacy pregnant women from rural areas of Assam.
Deployment:
Chetna is currently deployed in mini Primary Health Center (mPHC) in Bonmoja subcenter, approximately 20 km from Guwahati, Assam. The next phase will include Moriyapatti Sub-Center (Amingaon, Guwahati) and North Guwahati Primary Health Center (PHC) benefitting pregnant women from various other regions in Assam.
Technology:


Gestures are identified through Microsoft's Kinect hardware, developed through Kinect SDK 1.7 in C#.
Personalized trimester information is provided to each pregnant women. Basic details (e.g. name & phone number) are recorded to provide user-specific information to them.
Gestures were identified through user-centered approach for easy understanding and adaption. System navigation is through computational functions (e.g. select, play, pause etc.) as well as body-centric gestures (e.g. touch your stomach to learn about stomach related problems & precautions). It is designed to be easily adapted by pregnant women having low-literacy and low-technology exposure. Healthcare information is provided to be accepted in social surroundings and public spaces (especially government health centers).
Task Flow Diagram and Affinity
The Asha character was designed and animated to help guide the users
Visuals and icons were designed to intutively help the user throught the workflow
Different gestures were identified and integrated like play, pause, point, push, hand raise, namaste etc.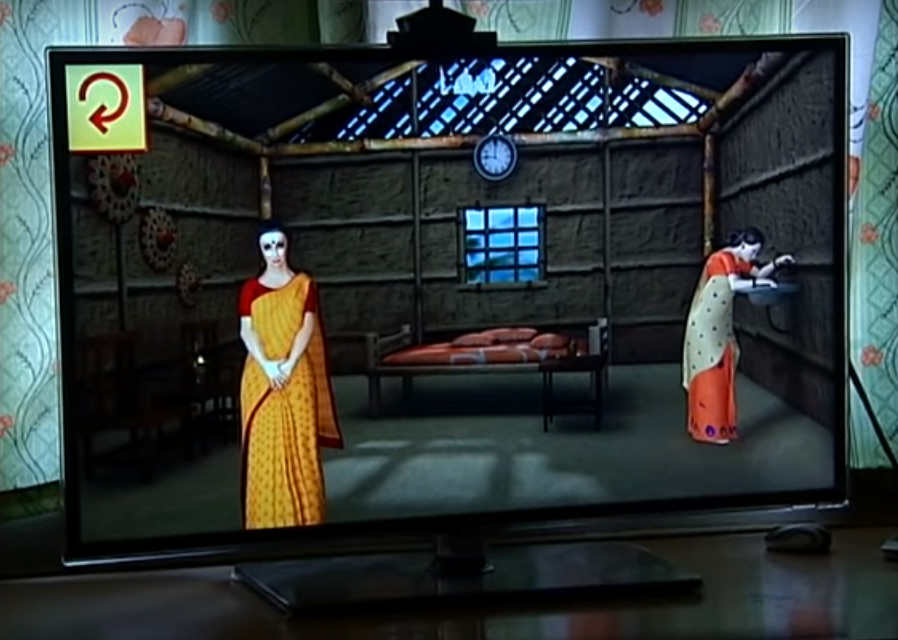 The setup was installed in subcenters in rural Assam and given for user testing.